Free software. Parole English edition ("Parole" meaning "Speech": French)

** Correction of a problem **
** Korean can be read.
** The solution of the special character reading imperfection in editing area
** At file Open, It took that BOM (mark) of Unicode remained in the beginning of a sentence.
** Speed was rectified by each Lang ID.
** Other


**[Contents]**

<> Max 10 Language Speech Engine select.
English,Japanese,French,Italian, Dutch, German, Korean, Portuguese, Russian, Spanish
<> Clipboard or Text Edit Speech.
<> Use Windows Text To Speech Engine.
<> Text Edit is Unicode text(read and save),OK.
<> Text Edit is other Lanugage Keyboard(typing), OK.
<> An alphabet input can be read with a sound.
<> Windows 2000, XP(Windows 98 not start).
If Parole not start, use this page(online internet)--> GO HTML HELP

<> uninstall is delete.

535Kb parole104e2.zip

(May/14 2004)

<>Japanese edition parole109

(July/15 2004)

<> Information <>

À,à,Â,â,Ä,ä,Î,î,Ï,ï,Ù,ù,Û,û,Ü,ü,Ô,ô,Ö,ö,Œ,œ,Ç,ç,É,é,È,è,Ê,ê,
Ë,ë,Ž,ž,Ć,ć,Đ,đ,Č,č,Š,š (French, etc)
After ver1.02, Unicode save, Byte Order Mark to a head and easy to open by other Editor(s).
An accents words directly written by Parole is Unicode saved.
It also opens drag and drop from Notepad, even from Unicode to open. (WordPad Menu open.)
(2003/05/16)


<> Links <> (Feb/05 2004)

Five languages (Japanese-English-French-Croatian-Italian)MS IME user dictionay (MS IME Japanese Input type)
HetoHeto, Lemon dictionay
HetoHeto, Lemon dictionay(Japanese-Romaji page)


English, Japanese, French, Italian, Dutch, German, Korean, Portuguese, Russian, Spanish
--Input-- Speech Page (May/18/2003)
Speech input ten languages Page by Javascript

accsen1.txt
MS_IME user dictionay register

accents input manual

French(or ohter Language)
Keyboard addition manual

user dictionay making format


<> Translation site <> (Jul/05/2003)

<>The translation which is direct by twelve languages as to the mutuality (accents, OK)
(English-Chinese(simplified)-Chinese(classical)-Dutch-French-German-Greek-Italian-Japanese-Korean-Portuguese-Russian-Spanish, Direct translation as to the mutuality )
Online translator powered by WorldLingo
(A result of translation can't use Ctrl+C. Go by Edit-Copy of the menu. )

<>Ten languages translation(accents, OK)English-Other languages
(Japanese-English, French-English, German-English, Chinese-English, Italian-English, Korean-English, Portuguese-English, Spanish-English, French-German,,, Russian-> English)
AltaVista's Babel Fish Translation Service

<>Japanese-English, Japanese-Chinese
Excite Ftranslation>Text translation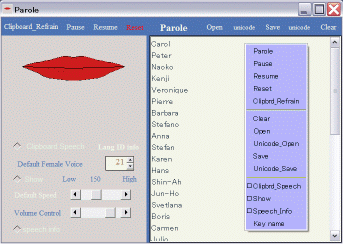 "Difference Philosophy" display, free-software
*Plateau English edition

<> You can experience the visualization of the difference philosophy (modern French philosophy).
*It is view pleasure freely like a screen saver. You can understand.


**[NEW]**
1addition of Deep(Japanese:Mugen)

2 fade-in, fade-out, 'plan de arts' was quicked.

3 If plateau.txt is put into the same directory as Plateau.exe and is started, it will function
as a text viewer.
(Close Plateau.exe and if plateau.txt are moving or deleting or renaming, Plateau.exe starts
and document 'Plateau' will return)

**[content]**

<quiet and warm thing> two parts in the theme.

<><> Document viewer

<> horizontal and vertical indication (Since original is vertical writing, there are not many characters of one line)
<> Fade-in, Fade-out is possible (graphic use of alpha blend)
<> background color, font color, change are possible. font can choose "Arial" or "Times new roman".
<> Tenderly indication of word and background, are possible.
<> Bookmark. OK.
<> The number of pages is saved at time of end. It restores next time at time of starting.
<>Key use of main operations. Permanent residence on a task tray is possible. etc

<><> Indication of a Difference philosophy

<> Dozens of kinds based on gradation of pictures which move are displayed.
<> Although it is simple, you you will be able to appreciate the basic concept of <Difference philosophy> present age philosophy.
<> The document in Plateau has detailed explanation.


installation : only unzip plateau104e.zip, DLL isn't needed.
uninstallation : only delete all file (exe, INI file, others).

*ver1.04 English edition release.(Nov/13/2003)



745kb plateau104e.zip

(Nov/13/2003)



<><> Plateau extracts only a difference philosophy display from the Japanese text viewer Plateaux (share-ware).
It is released as free software for difference philosophy mail magazine "Plateau" readers.

http://hp.vector.co.jp/authors/VA020725/plateau.htm (Japanese page)