Aoi Festival


History

Aoi festival is one of the most famous festivals in Japan. It's originated in the 7-9th century (Heian era in Japan), and keep its style more than 1,000 years long.

Scheduled Date

It's going to be held on May 15 every year in Kyoto.

Main event

Main event of the festival is the graceful parade of noble persons at that time, Heian era. About 400 persons and 40 cows and horses march in ancient costumes around the city.

Gissha

In the parade, "Gissha", the noble car pulled by a bull, is very attractive. For it's decorated by wisteria flowers and the swinging flowers add gracefulness and brightness.

Sai-ou-dai

" Sai-ou-dai", the substitute of Princess Sai-ou is also famous. Every year, an elegant and intelligent young lady is sellected for "Sai-ou-dai", and it's a very honorable duty.

Parade route

The parade starts from Kyoto Imperial Palace (called Gosho) and visits Shimogamo Shrine , Kamigamo Shrine and returns to the palace. Both Shimogamo and Kamigamo shrines are also historical, solemn, wide and very beautiful.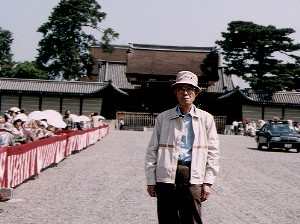 Author Kenkichi waiting the parade at Kyoto Imperial Palace (1996)
---